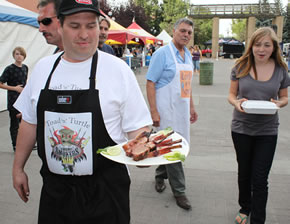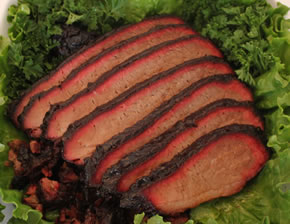 September 4 2011 sees the 19th Annual BBQ on the Bow Festival, a popular and entertaining event for adults and kids alike taking place at Eau Claire Market in downtown Calgary.
To give you an idea of the fun activities taking place at the Festival, please see the official press release below:
19TH ANNUAL BBQ ON THE BOW FESTIVAL – SEPTEMBER 4 at EAU CLAIRE MARKET
CALGARY, ALBERTA……… BBQ On The Bow Society will host the 19th Annual BBQ On The Bow Festival 2011 on Sunday, Sep 04 from 10:00 AM to 5:30 PM at Eau Claire Festival Market. We are Canada's Oldest BBQ Competition and home of the Alberta BBQ Championship.
Join us for SMOKING HOT SUNDAY. It's a free, fun, family event with live Main Stage Performances running all day featuring WestWinds Concert Band, Stampede Talent Search winners, Alex Boisselle Trio and the Mike Clark Band with very special guests Steve Pineo and Tim Williams. Bring a chair and enjoy a day of blues and entertainment.
Other activities on SMOKING HOT SUNDAY include the Alberta BBQ Championship & Awards Ceremony, Children's Craft Tent with Pippi and Freddy, Street Zone displays and vendors, Kicking Horse Coffee Tent and the General Store featuring Alberta fresh corn & Paradise Hills tomatoes, Canadian Club bbq sauces, Highwood Crossing oils and cookbooks by local authors for sale to the public.
Enjoy great bbq food from Holy Smoke BBQ and Big T's BBQ Smokehouse. BBQ concessions are located along Street Zone across from Majestic Patio's, public seating area.
Debra Wong, Executive Producer states, "In an effort to support our local Alberta Producers, Celebrity Chefs will be grilling up their favorite recipes in the BBQ On The Bow Kitchen from 10:30 AM to 4:30 PM. Some of the dishes are simply amazing and it's a great way to promote tasty, healthy and nutritious cuts of meat to the public". Sponsored by AB Pork, AB Beef, AB Chicken, AB Turkey, AB Livestock & Meat Agency.
Saturday afternoon hosts pre-festival competitions, teams will compete in the Big Rock Beer BBQ Sauce Competition and BBQ's Galore Chef's Challenge. A panel of 24 Celebrity Judges will pick the winning entries. Anything goes, so come cheer them on 3:00 PM & 4:00 PM.
So join us for a fun filled day at the 19th Annual BBQ On The Bow Festival 2011.
Sunday, September 04 at Eau Claire Festival Market in the heart of downtown Calgary.
OPEN TO THE PUBLIC – FREE OF CHARGE.
For info go to www.bbqonthebow.com