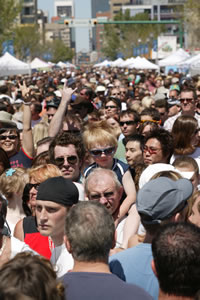 Each year in early summer the wonderful scent of lilac bushes pervades the streets of Mission, Cliff Bungalow and the 4th St area of SW Calgary, and to celebrate this first sign of summer, the 28th annual 4th Street Lilac Festival will bring together artisan craft makers, local restauranteurs and seven lively music stages to create one of the best street parties in Calgary Alberta.
The 2017 Festival takes place Sunday June 4 on 4th St SW Calgary from 13th Ave to Elbow Drive, an area already renowned for its excellent variety of restaurants.
Starting off with a parade at 10am, the Festival runs through to 6pm, and it is sure to be popular with approx 125,000 people in attendance in previous years, who enjoyed dancing in the streets to the lively music, watching street performers, browsing the stalls of over 500 vendors, sampling the cuisine from the local restaurants, or soaking in the atmosphere from a sunny terrace.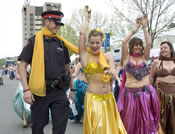 The Lilac Festival is lots of fun for party lovers of all ages, so if you are in the Calgary area during the first weekend in June, be sure to check it out.
For further information visit www.lilacfestival.net.