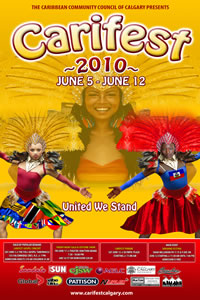 Carifest is a long standing annual festival which celebrates all things Caribbean by showcasing the culture, music and food of the many nations located throughout the Caribbean.
This year's event takes place from June 5-12 2010, and promises to be as fun filled and popular as ever.
The festival starts on June 5th with a Caribbean Gospel Concert which takes place at the Full Gospel Tabernacle Church in NE Calgary from 7-10pm.
The following weekend, on June 11th the Friday Night Gala and Costume Show will feature singers performing a full range of Caribbean music, with prizes awarded for the best performers which will take into account both the singing and and the carnival costumes. This showcase takes place at the Theatre Junction Grand (608 1st St SW) starting at 7:30pm.
On June 12th, the Carifest Parade will start at 11am from Olympic Plaza, finishing at Shaw Millenium Park. The parade promises to be a lively and colourful affair with carnival bands from across the country competing for cash prizes based on their performance and costumes.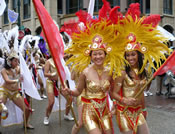 The parade will lead into the main event, the Sunshine Festival, at Shaw Millenium Park, where live Caribbean music will be accompanied by food and crafts from across the Caribbean. The Sunshine Festival runs until 7pm and admission is free.
For more information about Carifest, including photos and video from previous years, be sure to visit www.carifestcalgary.com