Whether you live in Calgary or you are visiting for the holidays, New Year's Eve 2013 will certainly be an event worth celebrating. There is a wide range of things to do in Calgary at New Years, from family friendly events to lively late night parties, and below you will find a few ideas for ways to spend a fun and exciting New Years in Calgary Alberta.
Need a Hotel Room?
If you are coming to the city from out of town and need a Calgary hotel for New Years, click here and enter your dates to check availability and compare rates.
The Carriage House Inn is offering a special Mystique New Year's Eve experience which features a selection of different venues to celebrate, including the option of a gourmet 6 course dinner with wine pairing. Tickets for the different events can be purchased alone or combined in a package with a hotel room.
If you want to go further afield, then a trip to the mountains can be a popular New Years excursion. Spending New Years Eve in Banff is always a fun and lively option, and there are several Banff new years packages offered by hotels there to see you into 2014.
Parties, Dinners & Celebrations
For an old fashioned traditional New Years experience, why not try a visit to Heritage Park? On New Years Eve the Selkirk Grille will be hosting a seven course dinner in a historical setting where you will be able to see in 2014 in style while reminiscing about the past.
At City Hall in downtown Calgary there will be a New Year's Eve Family Dance Party on December 31 2013 from 7-9pm, with the kids' countdown at 9pm. Another fun option for families takes place at Village Square Leisure Centre where there will be a lively pool party to bring in 2014 from 4.30-6.30pm.
Also close to downtown, an annual event which is sure to please the kids is Zoo Year's Eve on December 31st 2013 at Calgary Zoo, complete with fireworks and a colourful light display.
If you are looking for a lively night out in the bars and nightclubs of Calgary, there is no shortage of New Year Parties on offer on December 31 2013, and a visit to ClubZone will keep you informed of what's available.
Some hotels may offer special New Years packages which we will feature here as and when they become available.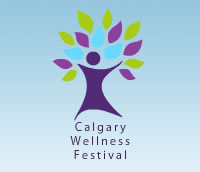 The Calgary Wellness Festival is the first family outdoor Eco, Health and Wellness Festival and is being held at North Glenmore Park in Calgary on August 21st 2011.
Included in the festival are two performance stages, guest speakers, a meditation tent, as well as a healthy food court area. Kid's Fun Zone with crafts, interactive activities, entertainment and a "Bubble Zone" will also be part of the festival.
There are vendors selling their merchandise, services and food samples including local restaurants and merchants.
The Swag Bag is a bag full of goodies from vendors, sponsors and people who were unable to make it to the event. Filled with everything from samples, coupons, information, pamphlets this bag will make everyone smile and the organization is taking all donations of any type and amount to add into the bags, so if you are interested in donating to the Swag Bag please let them know! All proceeds from the Swag Bags go to the Vitamin Angels.
The event lasts one day only August 21st, from 10:00 AM to 5:00 PM and all the proceeds from the festival will be donated to the "Vitamin Angels" charity.
Find out more by visiting the Calgary Wellness Festival Facebook page.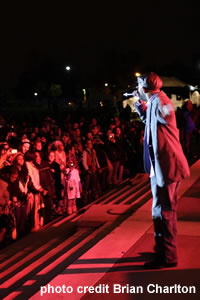 Whether you are a fan of reggae music, or just appreciate a fun event for the whole family, you will be happy to hear that the Calgary International Reggae Festival will once again be providing a weekend of entertainment and activities from August 18-20 2011. You can be sure there will be a high calibre of reggae musicians performing throughout the festival, and the list of artists includes Chino, Dahlia, Fenom, Freddie McGregor, Ibadan, Kae Sun, Laden and many more.
At the main event on Saturday 20th, as well as the fantastic music, you can expect to find a beer garden, a separate youth area, interesting arts & crafts, and food vendors where you will be able to sample a taste of authentic Caribbean cuisine.
We will be adding new information about the festival as it becomes available, so stay tuned! In the meantime, be sure to make a note of the dates in your summer entertainment calendar!
For further information about the festival, visit the official website at www.calgaryreggaefestival.com
Tickets for the festival are already on sale at www.ticketweb.ca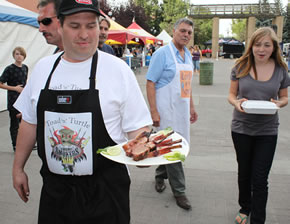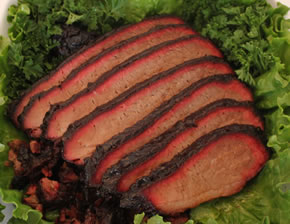 September 4 2011 sees the 19th Annual BBQ on the Bow Festival, a popular and entertaining event for adults and kids alike taking place at Eau Claire Market in downtown Calgary.
To give you an idea of the fun activities taking place at the Festival, please see the official press release below:
19TH ANNUAL BBQ ON THE BOW FESTIVAL – SEPTEMBER 4 at EAU CLAIRE MARKET
CALGARY, ALBERTA……… BBQ On The Bow Society will host the 19th Annual BBQ On The Bow Festival 2011 on Sunday, Sep 04 from 10:00 AM to 5:30 PM at Eau Claire Festival Market. We are Canada's Oldest BBQ Competition and home of the Alberta BBQ Championship.
Join us for SMOKING HOT SUNDAY. It's a free, fun, family event with live Main Stage Performances running all day featuring WestWinds Concert Band, Stampede Talent Search winners, Alex Boisselle Trio and the Mike Clark Band with very special guests Steve Pineo and Tim Williams. Bring a chair and enjoy a day of blues and entertainment.
Other activities on SMOKING HOT SUNDAY include the Alberta BBQ Championship & Awards Ceremony, Children's Craft Tent with Pippi and Freddy, Street Zone displays and vendors, Kicking Horse Coffee Tent and the General Store featuring Alberta fresh corn & Paradise Hills tomatoes, Canadian Club bbq sauces, Highwood Crossing oils and cookbooks by local authors for sale to the public.
Enjoy great bbq food from Holy Smoke BBQ and Big T's BBQ Smokehouse. BBQ concessions are located along Street Zone across from Majestic Patio's, public seating area.
Debra Wong, Executive Producer states, "In an effort to support our local Alberta Producers, Celebrity Chefs will be grilling up their favorite recipes in the BBQ On The Bow Kitchen from 10:30 AM to 4:30 PM. Some of the dishes are simply amazing and it's a great way to promote tasty, healthy and nutritious cuts of meat to the public". Sponsored by AB Pork, AB Beef, AB Chicken, AB Turkey, AB Livestock & Meat Agency.
Saturday afternoon hosts pre-festival competitions, teams will compete in the Big Rock Beer BBQ Sauce Competition and BBQ's Galore Chef's Challenge. A panel of 24 Celebrity Judges will pick the winning entries. Anything goes, so come cheer them on 3:00 PM & 4:00 PM.
So join us for a fun filled day at the 19th Annual BBQ On The Bow Festival 2011.
Sunday, September 04 at Eau Claire Festival Market in the heart of downtown Calgary.
OPEN TO THE PUBLIC – FREE OF CHARGE.
For info go to www.bbqonthebow.com
Each year in early summer the wonderful scent of lilac bushes pervades the streets of Mission, Cliff Bungalow and the 4th St area of SW Calgary, and to celebrate this first sign of summer, the 22nd annual 4th Street Lilac Festival will bring together artisan craft makers, local restauranteurs and seven lively music stages to create one of the best street parties in Calgary Alberta.
The 2011 Festival takes place Sunday May 29 on 4th St SW Calgary from 13th Ave to Elbow Drive, an area already renowned for its excellent variety of restaurants.
Starting off with a parade at 10am, the Festival runs through to 6pm, and it is sure to be popular with approx 125,000 people in attendance in previous years, who enjoyed dancing in the streets to the lively music, watching street performers, browsing the stalls of over 500 vendors, sampling the cuisine from the local restaurants, or soaking in the atmosphere from a sunny terrace.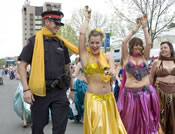 The Lilac Festival is lots of fun for party lovers of all ages, so if you are in the Calgary area during the last weekend in May, be sure to check it out.
For further information visit www.lilacfestival.net.
As anyone who takes an interest in the British Royal Family will know, Prince William and Kate Middleton will be getting married on April 29, an event which the whole world is sure to be watching. Perhaps even more exciting than the Royal Wedding for Albertans is the possibility of the newlyweds visiting Calgary as part of their Canadian honeymoon, which will take them across the country, starting June 30 and ending July 8 in Alberta, which is coincidentally the first day of the Calgary Stampede. Although their schedule has not been finalized, it seems likely that they would take advantage of the opportunity to attend the Calgary Stampede, a world class rodeo event, which would be the perfect Albertan send-off from what is sure to be a wonderful honeymoon experience throughout Canada, which will also include visits to Ottawa, the North West Territories, PEI and Quebec.
The trip will be paid for by the Canadian taxpayer, which will most likely cause a few grumbles, but whether you are a fan of the monarchy or not, there is no doubt that the publicity and resulting tourist dollars generated by a visit from the future King and his new bride will more than make up for the cost of the honeymoon.
Put it in your calendar – July 25th, 2010 marks the date for the 17th annual Sun & Salsa Festival in Calgary. Come join the merchants of Kensington Village as we close down the streets to cars and open them up to the people of Calgary. Tantalize your taste buds with over 40 of the most unique salsas you've ever experienced prepared by Kensington restaurants, and vote for your favorite. Get swept up in the music as you dance to one of the many live bands. Learn a new move with Salsa dance demonstrations, or practice an old one on the beach volleyball courts. Make it a family event and let the kids run at the Kid Carnival, and make sure Fido gets taken care of too at our dog-watering station. Enjoy the shopping as many merchants celebrate the day with sales, or find that hard-to-find gift from one of the local vendors who set up for the day. Help support local charities too, as the proceeds from chip and water sales go directly to the Brenda Strafford Center and Brown Bagging for Calgary's Kids.
The Kensington Village 2010 Sun & Salsa Festival, an experience that will not soon be forgotten.
More details at www.visitkensington.com
During the month of May, there are many exciting events taking place in the city of Calgary as part of Asian Heritage Month. To give you an idea of some of the highlights, Calgary Hotels is pleased to publish the official press release below: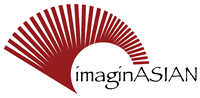 Discover the riches in the fabric of our lives
This May, experience Asian Heritage Month
Asian Heritage Month engages people of all backgrounds through events that foster awareness of the broad spectrum of Asian Canadian's social participation and cultural heritage. The Asian Heritage Foundation (AHF) hosts ImaginASIAN celebrations in Calgary throughout the month of May.
Back by popular demand are the "Find the CanASIAN in You" Bus Tours, which visit different communities on each Sunday and affords the experience of sights and sounds and tastes of Asia. The youth programs have been expanded to encompass visual arts, theatre and dance. The I HeART YOUTHinASIA art show promises to be a revelation of artistic talent among Asian Canadian youth. ACCT-OUT improvisational theatre was extremely well-received in 2009, and this year sees the participation of Asian Canadian high school students from across Calgary in "Meet the Asians". New to the Festival is the New Millenium Allstyles dance showcase and competition, featuring local dance crews and a special guest performance by Quest Crew.
Also this May, the ImaginASIAN Film Series screens three very different, but uniformly excellent films: Mao's Last Dancer, One Crazy Ride, and All About Dad. In June is the special Bollywood Extravaganza, with sumptuous dinner, entertainment and demonstrations to wrap up ImaginASIAN. As an ongoing project from last year, AHF raises support for the From Asian shores to Alberta Prairies project that purchases books and materials for public libraries, reflecting the increasing diversity of library users across the province.
For tickets and information, visit www.asianheritagecalgary.ca.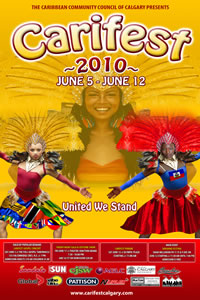 Carifest is a long standing annual festival which celebrates all things Caribbean by showcasing the culture, music and food of the many nations located throughout the Caribbean.
This year's event takes place from June 5-12 2010, and promises to be as fun filled and popular as ever.
The festival starts on June 5th with a Caribbean Gospel Concert which takes place at the Full Gospel Tabernacle Church in NE Calgary from 7-10pm.
The following weekend, on June 11th the Friday Night Gala and Costume Show will feature singers performing a full range of Caribbean music, with prizes awarded for the best performers which will take into account both the singing and and the carnival costumes. This showcase takes place at the Theatre Junction Grand (608 1st St SW) starting at 7:30pm.
On June 12th, the Carifest Parade will start at 11am from Olympic Plaza, finishing at Shaw Millenium Park. The parade promises to be a lively and colourful affair with carnival bands from across the country competing for cash prizes based on their performance and costumes.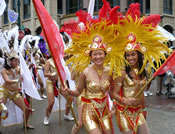 The parade will lead into the main event, the Sunshine Festival, at Shaw Millenium Park, where live Caribbean music will be accompanied by food and crafts from across the Caribbean. The Sunshine Festival runs until 7pm and admission is free.
For more information about Carifest, including photos and video from previous years, be sure to visit www.carifestcalgary.com